Braid a "Cuore" leash with paracord | DIY kit instructions
Braid a dog lead of about 160 cm with the "Cuore" pattern. Cuore is a variation of the Kara Yatsu braid devised by Daria Costa. Here you can see how to braid this pattern.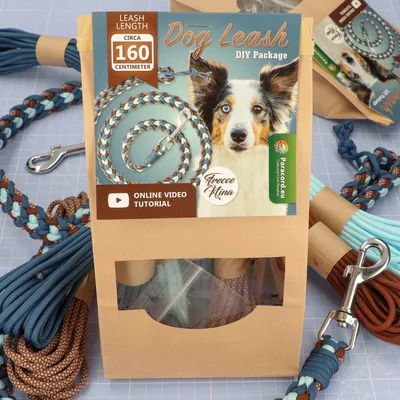 Have you purchased the DIY kit for making a Cuore lead? The instructions for braiding this leash can be found here. Of course, you can also make this braid without the kit. In that case, make sure you have 5 x 7 metres of paracord type III and a snap hook on hand.
These tools are handy to use:
2x type III paracord needle (1 paracord needle or a crochet hook is also possible)
Blowtorch
Scissors
Teaspoon
This variation on the Kara Yatsu braid was designed by Daria Costa. The kit and accompanying instructions are also created in collaboration with Daria. Be sure to follow Daria and her work on Facebook and Instagram!

Tutorial for the Cuore braid
The Cuore pattern differs from the original Kara Yatsu at the edges. That's because after you make the braid, you add an extra string by threading it through the edge.
So with this braid, you start by braiding the normal Kara Yatsu. In the video, this is done without tools, but you can also do this with a kumihimo disc. To do this, you can use the PDF pattern of the Kara Yatsu with a Kumihimo disc.