Working full time with paracord: it's possible | Interview
"The best thing about my work is that it doesn't feel like working," Daria Costa says. As the owner of Le Trecce di Nina, Daria's everyday life revolves around creating dog products. Besides her job, she and her dog also practise dog agility and, since August 2022, she is a Paracord.eu ambassador as well.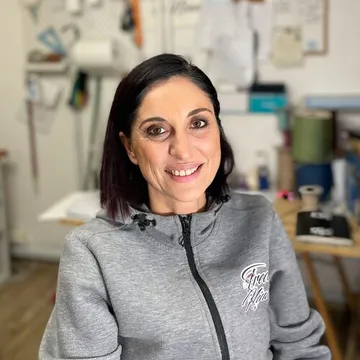 "My first dog Nina changed my whole life," Daria begins her story. "I had to change many habits and I even had to change jobs, because she couldn't be alone for too many hours."
Besides changing many habits, Jack Russell Nina also made Daria discover a new hobby: working with paracord. "I didn't have much money to buy accessories for my dogs, so I decided to make my own toys and leashes. Before I knew it, friends and acquaintances at the dog centre placed their first orders with me and that gave me a little extra income."
The start of Le Trecce di Nina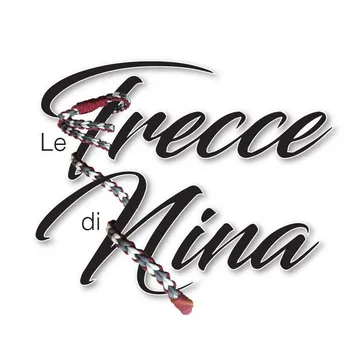 Seeing how popular her creations were, Daria and her husband Alessio decided to start a facebook page and call it Le Trecce di Nina (lit. 'Nina's braids'). "Through this page, I made the first products on order and participated at local markets for the first time. At the time, I had a job I didn't love, so I decided to leave it and turn my new hobby into my main job."
Having decided to make her hobby her profession, Daria officially registered her company in 2018. "From then on, I have been continuously crafting with paracord and other materials and Le Trecce di Nina has been growing steadily."
Emotions at a fashion show
"In 2019 we decided to participate in a pretty big event in Italy: "Quattro Zampe in Fiera". This event is about everything that has to do with animals: From animal health, diet and training to pet adoption, pet fashion accessories and even charities."
"This event marked a very important moment for us," Daria explains. "This was the first time we met a lot of our followers in real life and during this event we also did our first fashion show."
For this fashion show, Daria had to prepare the presentation of her products, including the background music. "At the moment that everything came together on stage, I became really emotional. It was the first time I saw my products on a big show. Together with meeting our followers in real life, this made what I have been doing real and not just a dream."
Daria's very own approach
Daria has developed her unique way to help her customers place the right orders. "Potential customers contact me via social media. First I have a series of questions to understand the breed, age, weight and character of the dog so that I can give them a precise quote."
"When the customer accepts the quote and decides to place the order, I send him or her photos of the weaves that are suitable for the dog. Once they have chosen the weave, we move on to choosing the colours - this is usually the most complicated part."
"When I create something for a dog, I like to think that I can represent its personality with colours."
Choosing colours
Daria regularly has customers walking into her atelier. "I actually prefer it when people place their orders online. When they are in my atelier, all the colours and the many weaves are just too overwhelming to make a choice. It's just too complicated for customers to choose in real life."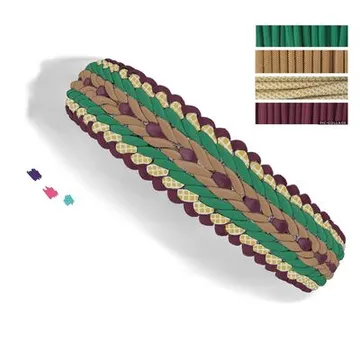 Because this proves to be difficult, Daria helps her customers by not showing them all colours at once. "I send the customer photos of the entire solid colour palette, divided into shades. I ask them to choose 4 to 6 colours to understand their personal taste. Then I prepare another palette with the chosen or similar colours and I add a matching multicoloured thread to the mix."
The customer gives feedback on this new palette and then Daria works on variations. "I really love to have contact with my customers and to personalise the dog products."
"I often prepare an iPad drawing to show the end result beforehand and I always send a photo of the cords combined. Before shipping, I send the customer another picture with the end result."
Daria's style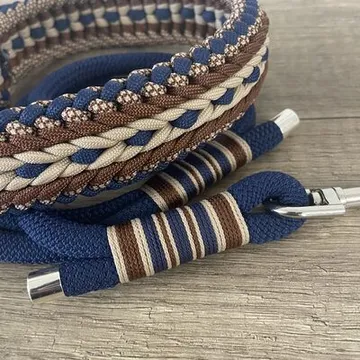 Daria has her own style and this is reflected in her work. "I love everything that is even and symmetrical. This often leads me to choose weaves with a central axis, I always prefer to work with colours rather than weaves. Having studied architecture, I always look for a certain harmony in composition by working with colour theory."
"Working with colours makes me happy," Daria expands. "I think that each colour can be associated with a different emotion. When I create something for a dog, I like to think that I can represent its personality with colours. That is why I always ask the owner as much as possible to fully understand the animal's characteristics and personality."
As far as technical features that affect the dog's safety and well-being, Daria makes no compromises. "I decide which products are best suited for the type of dog. As far as colours are concerned, however, I always try to please people by combining my style with what they like. And luckily, there hasn't been a case in which a client wasn't fully happy with the result."
Examples of her work
Daria shows some of her creations to explain what kind of products she makes. "These are some of my bestsellers, the kind of products and colour combinations I sell the most."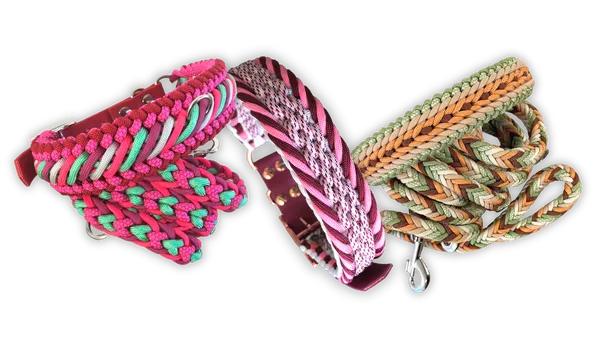 "This is what I love most," Daria says while showing pictures of matching creations. "When customers have more than 1 dog, I really like to make creations with a similar design and weave in different colour combinations. It might seem easy, but it is actually quite difficult."
She explains this further while showing a picture of 5 dog collars. "This customer has 8 dogs and for all of them, she wants the same kind of design but with different colours. Each dog needs its own colour combination, but some colours are off limits because the customer doesn't like them. I really like this kind of challenge."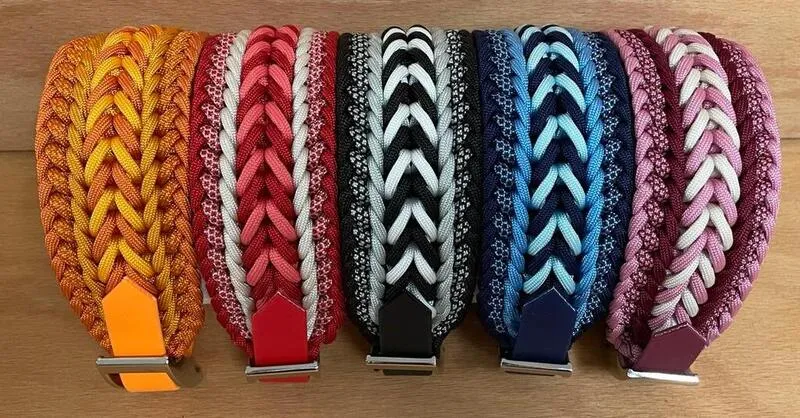 Le Trecce di Nina nowadays
Early 2020, Daria opened her own atelier in Carrara, Italy. She works here daily with her employees to make the wishes of her customers come to life.
"We recently hired Camilla to braid as well; she works with paracord and dog leash rope. My husband and Arianna take care of the biothane creations. In addition, Alessio deals with social media and marketing and Arianna also manages the warehouse and shipments. Francesca helps us build the website."
Plans for the future
The hardworking Italian has long-term plans as well. "My first objective is to get my website up and running, so that we can increase and speed up some of our sales."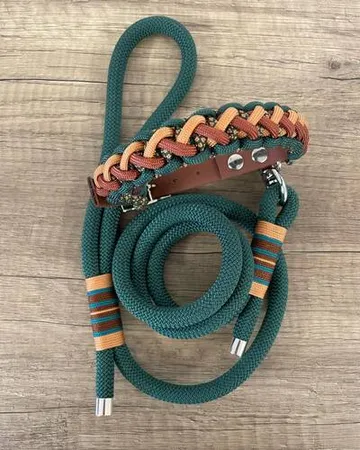 "The second objective is to expand our staff in order to increase the type of products we make, including making dog leashes with dog leash rope," she continues. And although Daria loves the customisation process and the personal contact with her customers, she is putting together a basic collection with products that take less time to create.
"The paracord creations will still be our main collection. And it would of course still be possible to personalise the products, but by offering these basics as well, we can speed up the sales. That's why we want to work more with biothane and dog leash rope as well," she clarifies. "Working with these materials is less time consuming than working with paracord."
"My ultimate goal is to make Le Trecce di Nina a well-known European brand, like a fashion house for animals, also using the fact that everything is made in Italy and the link that Italy has with fashion."
"Do it for passion and not for money. Money is a consequence of work done well and done with love."
Tips for the starter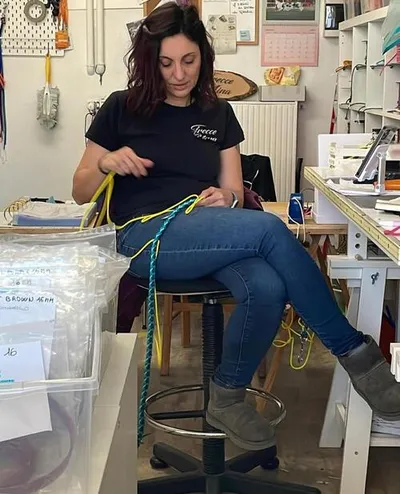 "When I started working with paracord there were not as many tutorials available as there are now. So I often got the measurements wrong and found myself having to do the same thing several times before I got the right amount of cord to use. Those who start now are at a much greater advantage."
"So if someone would like to start to work with paracord, I would advise them to use all this available information on the internet," Daria continues. "This way you can avoid some of the rookie mistakes that we made and save a lot of time."
"And," she adds. "If you decide to work with paracord for animals, I would tell you to have fun, experiment, try, but never forget that the safety and well-being of the dog comes first."
Daria has some advice for makers who want to start their own creative business as well. "Follow your dream and don't be afraid. Do it for passion and not for money. Money is a consequence of work done well and done with love. Give yourself a long-term goal that you can achieve in many small steps."
Dog agility
Besides working up to 80 hours a week, Daria and Alessio like to participate in dog agility competitions with their dogs.
"Nina and I started doing dog agility in 2015. Nina is a jack russell and is very lively, so I thought that getting her to do a sport was the best way to get her energy out. We were never very good at it," she laughs, "but I always had a lot of fun with her. And that was enough to get me and Alessio hooked on this wonderful sport."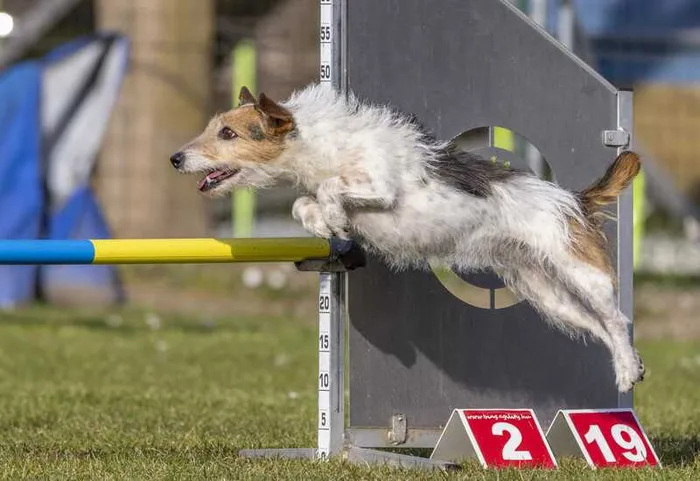 Right now, they do dog agility with their two other dogs. "Alessio and our dog Bones are a team and I am a team with our dog Erin. Alessio and Bones are really good, they were even close to being part of the Italian national team. Erin and I are still creating our harmony."
"Agility has become our leisure activity and a way to get away from everyday life and work. It allows us to travel and to make our dogs happy and fulfilled."
Do you want to keep up to date with Daria and her company? Follow her on Instagram and Facebook!