Make your own leather dog lead with the bleed knot | Tutorial
Make your own leather dog lead from greased leather and paracord! The leather is braided with the Bleed Knot at the handle and at the snap hook. As the leather of the dog leash is in one piece, the result is a strong leash.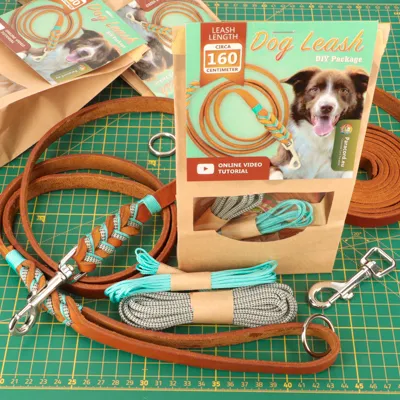 With the DIY kit for the bleed knot dog leash, you will make a beautiful leather leash out of greased leather. This tutorial shows you how to do this. Of course, you can also follow the tutorial without having the DIY kit, just make sure you have all the necessary materials.
With the bleed knot, you make cuts in the leather strip to then pull the leather through itself. The result is v's resembling the v-shape in braids. So with this technique, you can create the idea of a braided dog leash while the leather is in one piece.
Use the materials in the kit to make a leash with handle of about 1.5-1.6 metres. You can attach the leash to the collar with the snap hook at the end.
Needed tools
To make the lead with the materials in the DIY kit, you will need these tools:
Scissors
Sharp knife
Blowtorch or lighter
Tape measure
Pincers (optional)
Pliers (optional)
For decorating with paracord and micro cord, the tutorial uses three different needles, namely a Paracord Type III needle, a Paracord Type I needle and a micro cord needle. As an alternative to the Type III and Type I needles you can use a crochet needle, instead of the micro cord needle you can also use a regular sewing needle.
Making the leather dog leash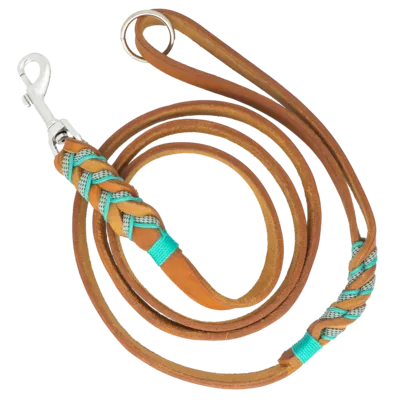 The instructions for making this dog leash can be found in the video below. The subtitles provide additional information.
We add a ring to the handle in the tutorial. This ring is certainly not mandatory, but it can be handy. If the dog is allowed to run loose, you can attach the snap hook to the ring and easily hang the leash over your shoulder. You can also use the ring to hang a poop bag holder or a fun accessory.
You can choose to make the edges of the leather smoother by polishing it with, for example, Tokenole and a wooden slicker. You do this before using the leather to make the dog leash. Polishing is not necessary and if this is your first time working with leather, we recommend not doing it for this project.