Make an Easter Bunny keychain from paracord | Video tutorial
A cute keychain in the shape of an Easter Bunny: do it yourself with this tutorial. The head, body and tail of the bunny are all made with a diamond knot.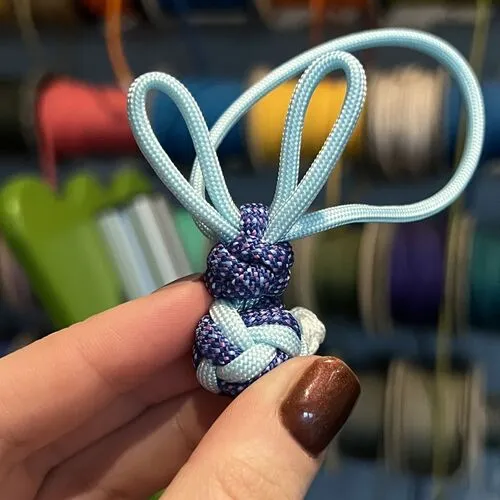 This fun keychain is a design by Sabina Hartig. In the video below, Sabina shows how to make this Easter Bunny.
Follow Sabina and her work on her website, Facebook and Instagram.
Materials:
2x 60 cm paracord type 3
1x 20 cm paracord type 1 (for the tail)
20 cm sewing thread or paracord inner strand
Key ring
In de video, Passion Pink Type III, Holy Guacamole Type III and White Type I are used.
Handy to have on hand:
Scissors
Blowtorch
Sewing needle
Type 1 needle
Marlin Spike (optional)
In the video, a key ring is used. You can also choose to make a loop out of paracord instead. Below you can see how to do this. The size of this paracord loop is up to you.